With the transition to the cloud, organizations often use many different applications that support their business processes. This means that employees and managers have to log on to different systems and often find it difficult to quickly find the right information or to carry out or track a process in full.
HuRis has developed the Digital Workplace for this purpose. The Digital Workplace provides employees and managers with a single central point of access and direct access to all the necessary information and business applications. The Digital Workplace brings together all the relevant information from different business applications for the users on the basis of their role. In this way they have access to one central employee portal (also mobile) and can easily find the information they are looking for, or start the right process.
Several organisations have already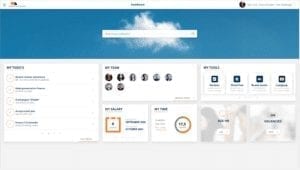 been aware of this challenge, and HuRis has already had the Digital Workplace available for this for some time. But in recent times, various organisations have chosen to actually implement this Digital Workplace. A great step for these organisations in their service provision to their employees and managers. A step in improved user-friendliness, overview for the users, and this without compromising the corporate identity of your organisation! The digital workplace, your organisation's internal signboard with all the important information personally for each user, which serves as an entrance to all the different business applications!
Click here for more information.