SAP has made available the release notes fort he H2 2022 release. A few interesting changes are explained here. The new release is available on preview datacenters as of October 28, and will be released to productive datacenters on December 9.

Dynamic Teams
Dynamic Teams are cross functional, self-guided teams, with members from throughout the organization. With dynamic teams, it can be assured all the necessary skills and competencies are available in a team by matching role requirements with the skills ontology; the skills that have been registered for people in SuccessFactors. Roles in these teams can be published to the opportunity marketplace, where these will be shown to those for whom they are relevant.
Compose teams with member from throughout the organization
Set team goals and follow up on results
Find team member by searching for those with the right skills and competencies
Let employees search for team roles relevant for them in the opportunity marketplace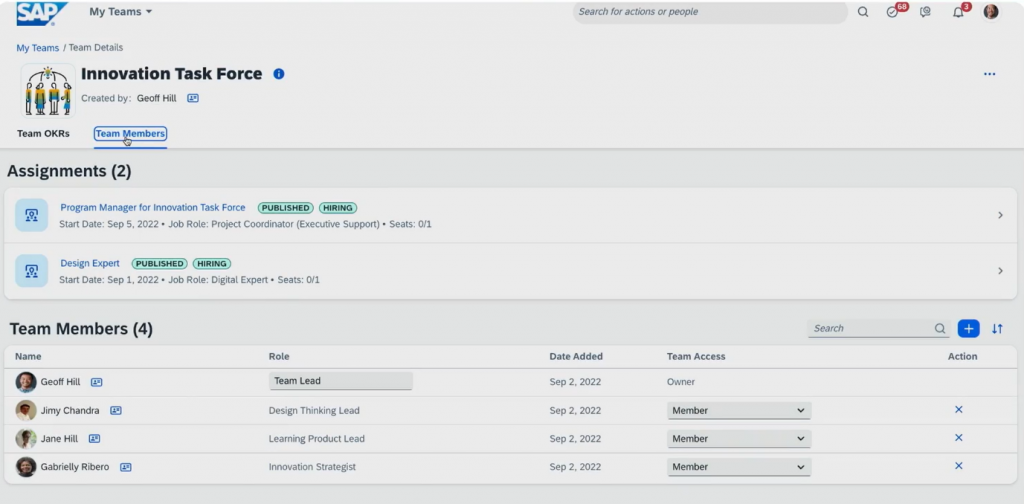 EC Time changes
In de H2 release, several changes in EC Time will be made available. We will highlight a few of these.
Automatic re-allocation of time account balances (beta)
It is now possible to trigger an automatic recalcultation of the time account balances of an employee when this employee plans time off. The balance for the relevant time accounts will be recalculated in accordance with the defined posting order, so if leave is planned before another leave, the balance of the time account that will expire first, will also be emptied first.
Effective dated time profiles (beta)
If time types expire during the validity of a time profile, this could only be done by entering the end date of the validity of the time type before. If a new employee is added after the validity of the time type, it would still be assigned, even though the end date had already expired. By introducing effective dating in the time profile, this will no longer happen and only relevant time types will be assigned to the new employees.
Categories in the holiday calendar
By assigning a category to a holiday, different rewards can be calculated for employees working on different holidays.
Download calendar file for time off
Employees can now download a calendar file after planning time off, so they can save the leave in their calendar.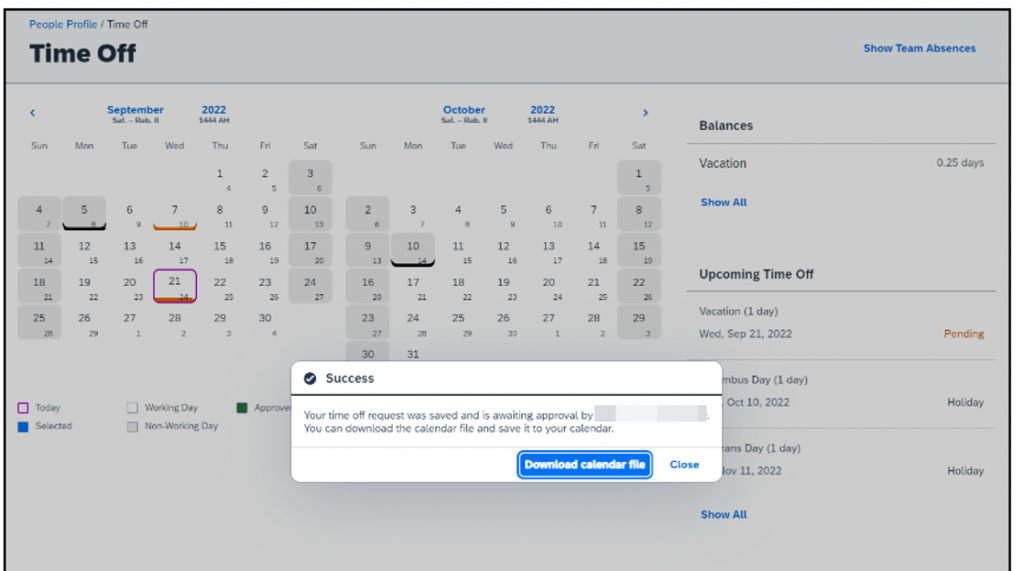 Hire date changes
Changes to hire dates can no longer be submitted in the people profile as of the H2 release. Instead, imports or the hire date correction tool should be used. The latter has been improved in a number of areas:
Changing past and present dated hire dates to the future, to today, or into the past
For Onboarding new hires (once they have passed the Pending Hire stage in the Manage Pending Hires tool)
For users with concurrent employment